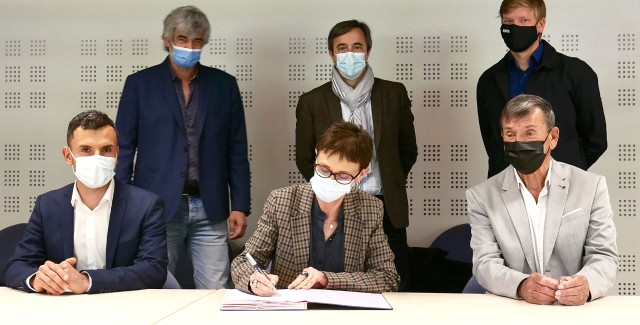 E2S UPPA signed on April 14, 2021 a partnership with the industrial start-up Materr'up, with the support of the Pays Basque local council, in order to study the use of clay and earth-based concretes in the construction industry.
This junior chair, called Constructerr', will be directed by Fionn McGregor and will last 5 years. It is part of the new environmental regulations for new buildings, whose objectives are to reduce the carbon impact of buildings, to continue to improve their energy performance and to ensure that they remain cool in the summer.
The Chair will study the properties of this new generation of materials, and more specifically:
Hygrothermal comfort and air quality
Their recyclability (to be foreseen from their design)
Their modeling
The creation of new construction systems by coupling clay concrete with other materials such as wood and bio-based insulation.
Two PhD positions and two "Postdocs" will be available soon.
Founded in 2018 in Saint-Geours-de-Maremne in the Landes area, Materr'up is developing a patented clay-based concrete that generates half the CO2 of conventional concrete. The start-up raised €3 million in 2020 to finance ten hirings and the construction of a factory.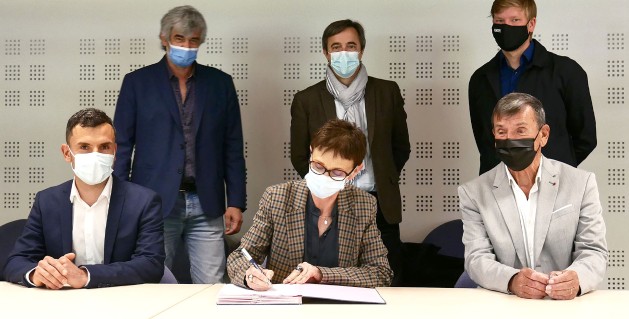 From left to right, Mathieu Neuville (Materr'up), Christian La Borderie (UPPA ISA BTP), Isabelle Baraille (E2S UPPA), Gilles Pijaudier-Cabot (E2S UPPA), Jean-Pierre Laflaquière (Pays Basque local council) and Fionn McGregor.