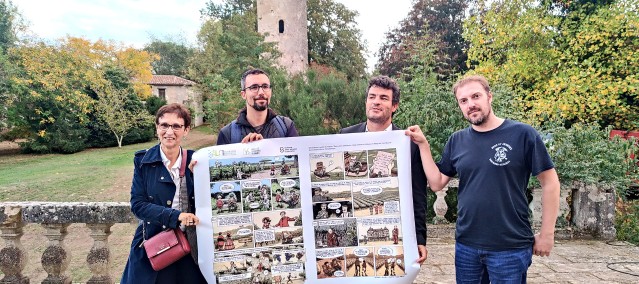 Photo caption: Isabelle Baraille (UPPA Research VP), Pierre Courroux (UPPA historian), Brice Bouyssiere (UPPA Science with and for society VP) and Simon Baert alias KanKr (comic book writer)
On October 14, 2022, the castle of Buzet-en-Baïse, in the Lot-et-Garonne, hosted a science café entitled "From ruins to history: reviving the castle and village of Haut-Buzet," as part of the partnership between the University of Pau and Pays de l'Adour and the Buzet Winegrowers' Cooperative.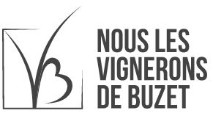 The conference of historian Pierre Courroux was followed by a presentation of the comic book Wine and climate change, created with the authors of the association L'Encre Sympathique whose scriptwriter Simon Baert was present. The evening naturally continued with a tasting of Buzet wine.
View the comic (low resolution, in French, 5 Mo)