Chair holders Louis de Fontenelle and Raphael Heffron with TREE laboratory director Xavier Arnauld de Sartre (right).
The inauguration of the "Energy Justice & the Social Contract" research chair took place on Monday, June 19, 2023, on the Pau campus, in the presence of Gérard Blanchard, Vice-President of the Regional Council of Nouvelle-Aquitaine in charge of Higher Education and Research, of Younis Hermès, Aquitaine regional manager of CNRS research agency, and of Laurent Bordes, President of the University of Pau and Pays de l'Adour (UPPA).
This international and interdisciplinary chair is based on juridical sciences and draws on expertise in social sciences (geography, economics and sociology). A genuine platform of knowledge and expertise in the field of energy, the environment and climate, the chair aims to propose innovative scientific responses to promote fair and sustainable energy transitions, in conjunction with energy and society stakeholders, both institutional and associative.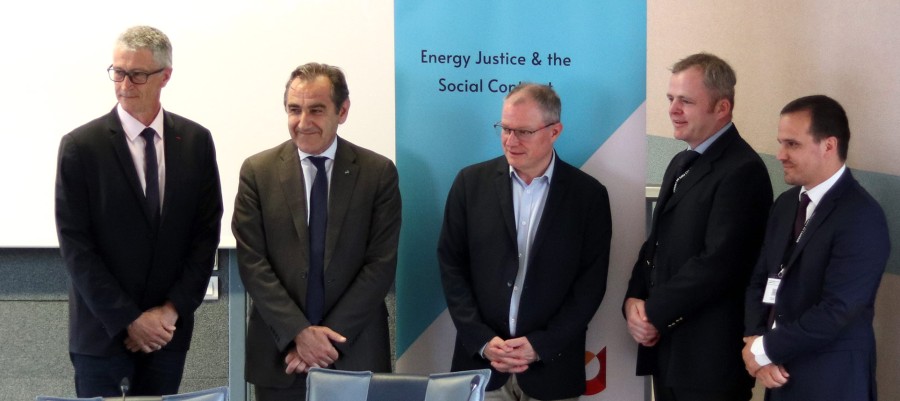 Gérard Blanchard (Region), Younis Hermès (CNRS), Laurent Bordes (UPPA), Raphael Heffron et Louis de Fontenelle.
The 5-year Energy Justice & the Social Contract (EJ&SC) Chair is headed by Raphael Heffron, an internationally renowned professor of Energy Law recruited by UPPA, and Louis de Fontenelle, a senior lecturer in Public Law, both of whom are attached to the UPPA/CNRS "Transitions Energétiques et Environnementales" (TREE) joint research unit.
The Regional Council of Nouvelle-Aquitaine is supporting the Chair as part of its "Emerging Chairs for Science and Society" (CHESS) program, with an initial grant of 648,550 euros awarded for the project's 18-month seed phase. Further support is planned later on.
The laboratory's administrative supervisors, UPPA and CNRS, are also funding the project up to a total of 1.14 million euros for the entire duration of the chair.

The inauguration of the EJ&SC Chair, followed by a videoconference by Mattias Guyomar, judge at the European Court of Human Rights (ECHR), entitled "How does energy affect everyone? The story of human rights", opened the World Energy Justice Congress 2023, which ran from June 20 to 23 in Anglet and welcomed policy-makers, practitioners and academics from around the world who presented their work on the topic "Justice as a Driver for a Common Energy Future".